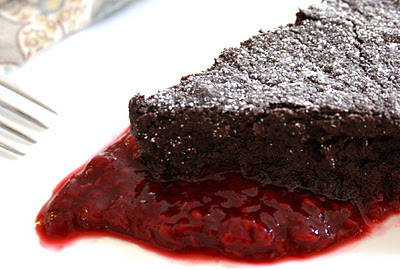 Ingredients:
400 Gram(s) 75% cocoa chocolate (4 large bars)
1/2 Cup(s) butter
1/3 Cup(s) brown sugar
3 Teaspoon(s) corn starch
3 Each(s) eggs
3 Cup(s) frozen raspberries
2 Tablespoon(s) maple syrup
Directions:
Preheat oven to 300 F.

In a medium size pot, warm chocolate and butter over lowest heat on stove, stirring.

Once chocolate butter mixture has melted, remove from heat and allow mixture to cool to room temperature.

In a separate small dish, combine sugar and corn starch, ensuring all of the corn starch is well integrated.

Meanwhile, in a separate pot on stove, warm raspberries and maple syrup over low heat, gently increasing the temperature to medium low as you stir. Once berries have thawed and softened, you can use a potato masher to break them down further (mashing them into a jam consistency or leaving chunky pieces as desired). Remove from heat and reserve 3/4 cup of mixture.

Once chocolate mixture has cooled to room temperature, whisk in sugar corn starch mixture followed by eggs. Finally, add the 3/4 cup of raspberry mixture, stirring to combine (you should have a little over 1 cup raspberry mixture leftover for serving with torte).

Using an 8" springform pan (ideally), spray pan with a little bit of olive oil and then lay a piece of parchment paper overtop that's been cut to size. If you don't have a springform pan, simply use a regular 8" cake pan and line with oil/parchment paper. Pour chocolate mixture into pan.

Bake torte for 45 minutes and then remove from oven to cooling rack. If using a springform pan, allow torte to cool on rack for 10 minutes. Run a flat edge knife along the edge of the torte before releasing spring to ensure that the torte is not sticking to the edges. Allow the torte to cool another 10 minutes before slicing.

If using regular cake pan, allow torte to cool for at least 15 minutes on a cooling rack. Run a flat edge knife along the edge of the torte. Place an inverted plate over top of torte and flip torte over such that it drops onto plate. Allow torte to cool on plate for another 10-15 minutes.

You will want to be careful when serving, that the torte doesn't break apart (use spatulas for support), it is quite delicate.

Serve torte slices with a drizzle of warmed raspberry coulis and a light dusting of icing sugar as desired.