Course:
Appetizer
Beverage
Breakfast
Dessert
Dressings & Sauces
Entree
Lunch
Side Dish
Snack
Base:
Beef
Chicken
Other
Pork
Seafood
Turkey
Vegetable
Recipe Name:
Boeuf Bourguignon
Difficulty:
Intermediate
Source:
Julia Child Frech Chef show
Serving Size:
6
Ethnicity:
French
Comments:
Base:
Beef
This is the version from the first episode of "The French Chef". It is different than the one in the book "Mastering the Art of French Cooking" published two years earlier. It isn't really simplified for TV so I'm assuming she considered it an improvement over the book version. Only the book version has been copied onto the recipe websites that I looked at.
Course:
Entree
Preparation Time:
60+ Minutes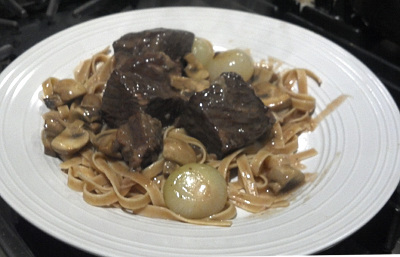 Ingredients:
2 Tablespoon(s) Olive Oil (or more)
3 Pound(s) Lean Stewing Beef cut into 2 inch cubes
3 Cup(s) Red wine
3 Cup(s) Beef stock or bouillon
1 Tablespoon(s) Tomato paste
1/2 Teaspoon(s) Thyme
1 Each(s) Bay leaf
1 Each(s) Garlic clove pressed
1/2 Teaspoon(s) Salt
18 Each(s) Small white onions (18 ~ 24 depending on size)
1 Cup(s) Or so of water
1 Tablespoon(s) Butter
1 Pound(s) Fresh Mushrooms
1 Tablespoon(s) Butter
1 Tablespoon(s) Olive Oil
1 Dash(s) Black pepper or more to taste
3 Tablespoon(s) or more Flour (1T per cup of sauce)
1 1/2 Tablespoon(s) softened Butter
Directions:
Notes: I decided cutting the beef into smaller 1 1/2" cubes was better. I carefully trimmed all fat off the meat and instead of making a beurre manié to thicken the gravy I just used flour. The result was less flour, and a better tasting, darker sauce. Before was a bit overwhelmingly rich and buttery, maybe more suited to 1960s palates. Served with cubes of sweet potato instead of noodles for a lower carbohydrate meal.


Preheat oven to 325F.

Cube beef into approximately 2 inch cubes. Then remove the surface moisture from the cubed beef using paper towel, so that it browns instead of steams. Using a stainless fry pan brown the meat with olive oil for 3 or 4 minutes, turning meat to cover all sides with oil as it browns.

Put beef in covered casserole with tongs. Discard excess oil in the fry pan and then deglaze the pan with the 3 cups of wine. Pour the resulting pan sauce over the beef in the casserole. Then add beef stock to the casserole, only enough to cover the meat (2-3 cups).

Add flavorings: tomato paste, thyme and bay leaf. And a half teaspoon of salt if required (some bouillions are salty).

Put casserole in 325F oven for 3-4 hours.

Braised onions:

While stew is cooking, put onions in boiling water, wait until boiling resumes and after 20 seconds remove them. This barely blanches them making it easy to remove the skin. Peal them, minimally slice the ends, and poke a couple holes in the root end of each onion with a pointed knife so it stays whole while it cooks.

Put the onions in large enough sauce pan so that they are all on the bottom, not piled up. Put in water until half covered. Add a tablespoon of butter. Slow simmer for 25 minutes. Put them aside until later. Julia said you can do these a day ahead.


Mushrooms:

Wash and thoroughly dry mushrooms. Quarter them. Heat non-stick pan with oil and butter. Wait until butter is hot enough (foam just barely disappears). Saute for two or three minutes. Just to add flavor of butter, not cook through. Make sure pan is big enough so that mushrooms don't pile up or they will start to steam.


Final:

Get the stew out of oven. Using a colander or sieve, drain the sauce from the casserole into a sauce pan. Try and skim off some of the fat with a big shallow spoon. Taste it and add salt, black pepper, or more garlic, only if necessary.

Mix flour and butter together into a beurre manié paste and add it to the sauce for thickening. The sauce should be just thick enough to coat a spoon.

Pour thickened sauce over beef. Add onions and mushrooms. Heat to mix flavors, simmering 2 or 3 minutes once temperature is reached.

It is ok to cover it to keep warm if eating right away, but leave left overs uncovered until stew is completely cooled.

Serve over noodles, potato, or rice.