Course:
Appetizer
Beverage
Breakfast
Dessert
Dressings & Sauces
Entree
Lunch
Side Dish
Snack
Base:
Beef
Chicken
Other
Pork
Seafood
Turkey
Vegetable
Recipe Name:
Fricassee De Poulet a L'Ancienne
Difficulty:
Intermediate
Source:
Based on Julia Child recipe
Serving Size:
4
Ethnicity:
French
Comments:
Base:
Chicken
This is modified from the original in Mastering the Art of French Cooking
Course:
Entree
Preparation Time:
30-60 Minutes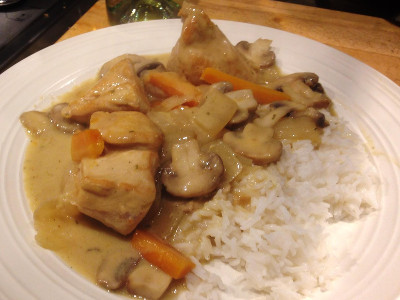 Ingredients:
3 Pound(s) Chicken Boneless Skinless (between 2 and 3 lbs)
4 Tablespoon(s) Olive Oil
2 Each(s) Medium Carrots cut into matchsticks
1 Each(s) Large White Onion cut into one inch pieces
1 Each(s) Salt and Pepper
1/4 Cup(s) Flour
1 Cup(s) Dry White Wine (I prefer dry Riesling)
2 Cup(s) Chicken stock
1 Tablespoon(s) Dry Parsley (can use fresh)
1 Teaspoon(s) Ground Thyme
1 Each(s) Bay Leaf (or 2 small ones)
1/2 Cup(s) Whole Milk or Cream
2 Each(s) Egg Yolks
1 Pinch(s) Nutmeg
1 Teaspoon(s) Lemon Juice
3 Tablespoon(s) Butter
8 Ounce(s) Sliced and Washed Mushrooms
1 Each(s) Fresh Parsley Chopped (optional)
Directions:
Cut the chicken into about 2 inch pieces. (A large boneless chicken breast is cut into 3 pieces). Season with salt and pepper if desired. Pat them dry with a paper towel and place them in a large frying pan with olive oil. Don't use a nonstick pan. I think stainless clad is best for this part of the recipe. Don't let pieces touch each other. Brown all sides and when they are done use tongs to place them into a dutch oven. Do all the pieces this way in shifts if necessary.

Put more olive oil in the pan and saute the carrots and onion until the vegetables start to get tender. Cover the vegetables (still in the pan) with flour and toss them around for a minute or so to get them covered well.

Pour the wine over the now floured vegetables and using a flat whisk or a fork loosen up the good brown stuff stuck to the bottom of the pan.

After the pan is well deglazed and the wine has cooked off the alcohol a bit, add in the chicken broth. The sauce should start to thicken a bit.

Then pour the whole contents of the pan into the dutch oven that the chicken is sitting in.

Add the spices and stir to mix everything together. Cover the dutch oven and cook at a low simmer for 30-35 minutes.

Meanwhile, saute the mushrooms lightly. Melt the 3 tablespoons of butter in a large fry pan heating it until the foaming starts to recede. Add the mushrooms and stir them around for 2 or 3 minutes until just before they start to expel water. The idea is to heat them and cover them with butter.

Remove the cover and turn the heat up a bit to help reduce the sauce. Keep an eye on it so it doesn't stick. The original recipe said to use high heat, but I only turned it up to low or medium low and it still came to a boil.

Meanwhile, in a small bowl, add the egg yolks and whole milk and whisk them to combine. Carefully add a few spoonfuls of the sauce from the dutch oven to the egg and milk (or cream) mixture, while continually whisking. Be careful to not let the eggs scramble. Continue to add sauce to the egg and milk mixture until it becomes warm to the touch. At that point, add the egg liquid mixture into the dutch oven. Mix well and the sauce should be a beautiful golden liquid.

Bring the dutch oven to a boil and season with salt and pepper as needed. Add in the lemon juice and a pinch of nutmeg. Bring the boil down to a low simmer and add add the mushrooms that were sauteed earlier.

Serve it with steamed rice or creamy mashed potatoes. Garnish with the chopped fresh parsley if desired.