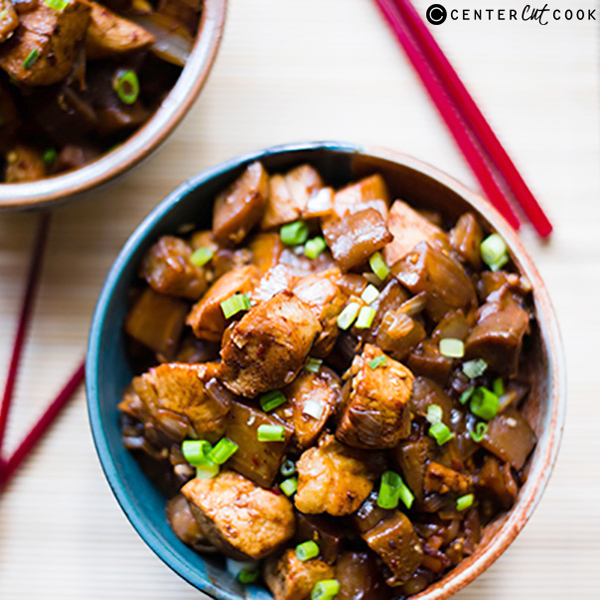 Ingredients:
2 Tablespoon(s) soy sauce
2 Tablespoon(s) chicken broth or water
2 Teaspoon(s) rice vinegar
1 Tablespoon(s) chili paste
1 Teaspoon(s) corn starch
2 Tablespoon(s) sesame oil (divided)
1 Pound(s) chicken breasts boneless cubed
1/2 Each(s) yellow onion diced
1 Each(s) large eggplant peeled and cubed
2 Each(s) cloves garlic minced
2 Each(s) green onions
1 Each(s) brown rice optional side
Directions:
1. In a small mixing bowl, combine the soy sauce, chicken broth/stock, rice wine vinegar, chili paste, cornstarch, and 1 tbsp. sesame oil. Mix well and then set aside.

2. Heat the remaining 1 tbsp. sesame oil in large saute pan over medium-high heat.

3. Add the chicken and onion and cook until the chicken is well-browned and the onion is tender, about 6-8 minutes.

4. Add the eggplant and cook until eggplant is mostly tender but not yet cooked through, about 3-4 minutes. Add the garlic and green onions, and cook for 1 minute, until the garlic is fragrant.

5. Add the prepared soy sauce mixture to the pan, cover, and then cook 5-6 minutes, or until the eggplant is tender and sauce is thickened.